Flowers play a huge role in celebrating your special day. Allow me to take your carefully selected blooms and create you a stunning artwork which captures their beauty and preserves their image as a treasured keepsake to decorate your home.
The casts are all custom made and I would love to discuss all the options and ideas to create the perfect package for your needs. Please use my contact page to get in touch or chat via social media if you prefer.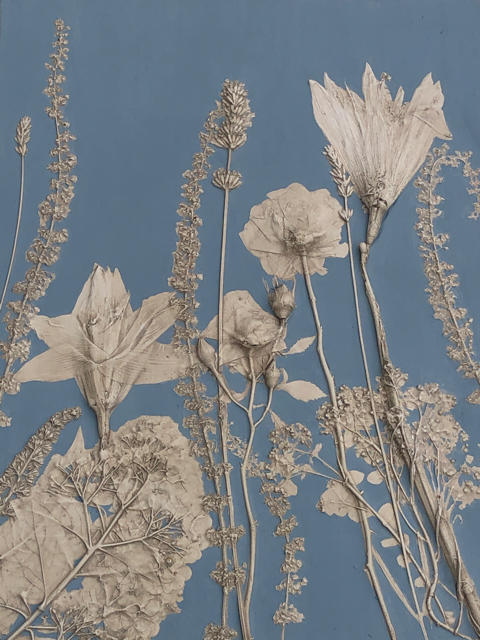 How Does it Work

Using my unique casting technique I can take your bouquet, buttonholes or other wedding flowers and use them to cast an imprint of these precious stems. Capturing their detail in plaster.

In order to create an interesting artwork I need at least 10 stems from your flowers. So you can choose to send me the whole bouquet or select your favourite flowers to cast.
I need the flowers as soon as possible to make sure that the stems have not perished. So ideally within 48 hours of your wedding. Wilted flowers become soft which makes casting a detailed impression problematic. I can work with you to advise the best solution to get your bouquet to me as quickly as possible after your wedding. Either by courier, hand delivered by someone at the wedding, or if you getting married locally, I may be able to arrange collection from the venue for a small fee.
Creating your cast is a slow process. It can take upto 1 hour to prepare the clay ready to take the flowers. I then work on the best composition for your flowers and chosen size and shape of cast. Once happy with the design the flowers are arranged onto the clay. I carefully press the stems into the clay. The slow and delicate process of removing the stems then starts. Small tweezers and a steady hand is needed for this part of the operation and cannot be rushed. It can take many hours to complete. This ensures the best imprint is taken. Once all traces of the flowers have been removed I use my unique blend of sculptural plaster to make the cast. Once the plaster has set it is removed from the clay. The process of cleaning and allowing the plaster to cure and dry then starts. This can take up to 2 weeks depending on the cast. If you have chosen to have your cast handpainted this process can start after approximately 1 week. Many coats of paint are needed to obtain a smooth finish. Very fine paintbrushes are used and this is once again a process which cannot be rushed and takes many hours. Finally once all coats are dry the cast is carefully wrapped in tissue paper, bubble wrap and brown paper and is ready to collect.
The casts will continue to dry and harden over many weeks depending on the size of the cast. They are supplied when the plaster is hard enough to be hung or displayed. If your cast is natural plaster it will continue to lighten over time as it fully dries.

Special touches

I can inscribe the back of the cast with your name, date and location of your wedding. Or a personalised message.

Alternative Options

Do not worry if you cannot get your bouquet to me in time. I can source identical flowers to those use in your bouquet to be used in the cast. A fee will be changed to source the flowers.
Alternatively why not ask your florist to supply the extra stems. This means you do not need to worry about the time pressure of getting your bouquet to me.

Missed your day

If your wedding has already taken place but you would like a cast made to remember the day. May be as an anniversary gift. I am happy to discuss options for sourcing replica flowers to be used to create your cast.

Favours

Botanical casts are a very memorable keepsake to be used as wedding favours for your guests or as thank you gifts for the bridal party. If you choose our botanical cast fragrance diffusers they come ready boxed ready to gift. Tags and insert cards can be tailored to your own personal message. Package prices are available on request.

Wedding Flower Casting Prices

Natural Plaster

Long Wall Panel 25cm x 80cm £540
X-Large Rectangle 40cm x 50cm £420
Large Rectangle 30cm 40cm £340
Standard Round 27cm £190
Standard Oval 35cm x 25cm £190
Standard Square 27cm x 27cm £190


Handpainted

Long Panel 25cm x 80cm £620
X-Large Rectangle 40xm x 50cm £520
Large Rectangle 30cm x 40cm £430
Standard Square 27cm x 27cm £250
Standard Round 26cm £250
Standard Oval 35cm x 25cm £250

Wedding Package

Large Rectangle 30x40
plus 3 x 19cm Natural £680
Painted £850

Standard Shape
plus 3 x19cm Natural £530
Painted £680


All prices are for collection from my workshop in Tetford. If you require delivery I will obtain the best quote for you.
All packages are bespoke. After detailed discussion to finialise your perfect package an invoice will be sent to you. 50% non-refundable deposit is required to secure your date in the diary. The balance is required once the casts are complete and ready for collection.
The casts are usually ready 3-4 weeks after the wedding.